People with hidden disabilities may struggle to do things that other people take for granted and this can often affect their confidence to have the same experiences as everybody else. Visiting shops can often be challenging – examples include not being able to easily access the shop, the shopping environment leading to sensory overload, or layout changes meaning that someone with a visual impairment finds it difficult to navigate the shop. The Hidden Disabilities Sunflower was designed to help with these visits by indicating that the person wearing it may need support, understanding or a little more time, making the invisible, visible.
Listen to Sunflower wearers talk about how the Sunflower helps their visits to shops:


As visits to shops are limited and shopping for essentials took on greater importance during the lockdown, we were interested to hear from people with a hidden disability about their shopping experience to gain a deeper understanding of how the Hidden Disabilities Sunflower is helping their confidence when visiting shops.
A summary of some of the key headlines from the 2020 Sunflower Shopping survey is provided below.
---
Who responded?
1,771 people responded: 95% of these are familiar with the Sunflower and 82% wear the Sunflower: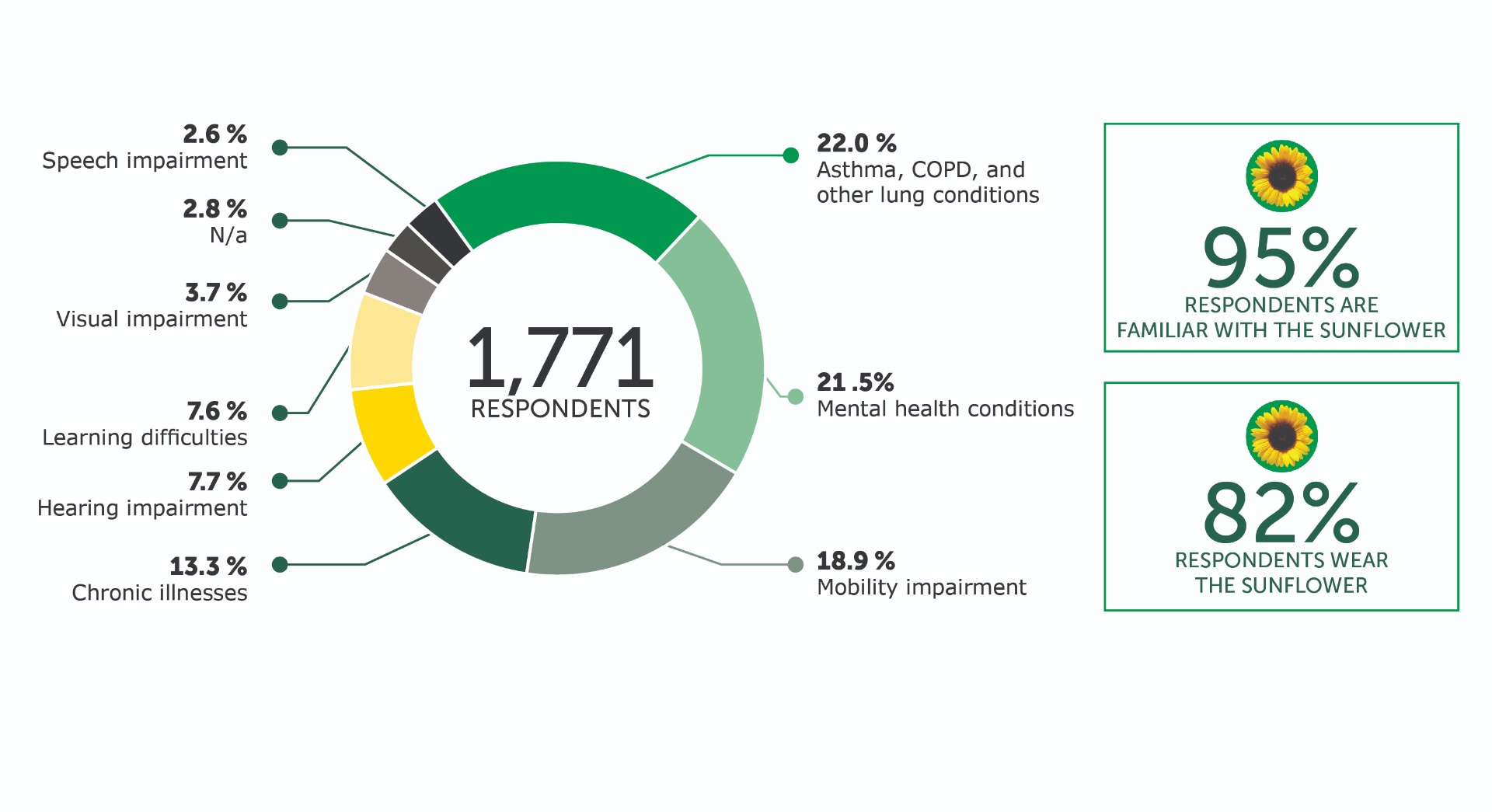 ---
Visiting shops
What are the main challenges faced when visiting shops and does the Sunflower help people with hidden disabilities make a decision which shop to visit?
---
Does the Sunflower help?
'Over 80% agree that a shop that recognises the Sunflower is helping to make shops more accessible for people with hidden disabilities'

For a more detailed overview of the results, please download the results here.
---
Tim Fallowfield, Board Sponsor for Disability Carers and Age at Sainsbury's, said: "As we work towards our vision of being the UK's most inclusive retailer, we're proud to be offering sunflower lanyards in all stores. Not all disabilities are visible, and it's clear that a subtle signal can make a big difference in providing confidence and reassurance. Together with our colleagues, we hope to give all our customers the best possible experience when shopping, while working with the wider industry to raise awareness."
We were the first supermarket to pioneer the Sunflower Lanyard for customers with hidden disabilities. The lanyards are a discrete way for our colleagues to be made aware of those customers who may need a little extra help, particularly those with hidden disabilities. The initiative also allows these customers to feel confident that help is on hand if they need it. We know the Sunflower Lanyards are welcomed by our customers from the hundreds of thousands that we've provided so far. In October 2019, we rolled these lanyards our nationwide in all of our Sainsbury's and Argos stores.
---
Tesco: The sunflower lanyard acts as a discreet sign that the wearer has a hidden disability and could require additional assistance. Tesco colleagues will be able to offer help such as speaking face-to-face to allow lip reading, packing bags and taking them to customers' cars or reading labels for partially-sighted customers. Every store will display a permanent sign which says that the sunflower lanyard is recognised there.
We hope this offers a little help to our shoppers with hidden disabilities and we continue to explore ways we can do more for these customers and their families.
*[Excerpts from blog] Helping our customers with invisible disabilities 20 February 2019
---
Posting on Twitter, Morrisons stated: "This week we're introducing the Hidden Disabilities Sunflower Lanyard Scheme into stores. "The initiative acts as a discreet sign that somebody has a hidden disability. "If you have a hidden disability and want a lanyard, please collect one free from the customer service desk." The recognisable green and yellow sunflower lanyards were launched in 2016 and are now used globally at airports, shops, hospitals and leisure facilities.
---
Sacha Berendiji, M&S's Retail, Operations & Property Director said, "As we work hard to transform M&S we remain committed to being the UK's most accessible retailer for customers – however, wherever and whenever they want to shop – it all matters - from the parking we provide to the service with a smile we give in-store, to the accessibility of our website. The sunflower lanyard initiative is one of several collaborative initiatives we're proud to take part in and we hope to encourage more retailers and services on the High Street to join up and help the scheme grow."
---
"It's vitally important to support customers who might find shopping a challenging experience at the moment," said Nigel Murray, COO at Booths. "The lanyard will enable our colleagues to identify and give additional help to customers requiring extra assistance. Booths are keen to support everyone in our stores and give them the warm welcome and service they deserve."
*excerpt from the Grocer magazine 20th July 2020
---