Following their Sunflower launch in readiness for National Inclusion Week, we spoke to Mace, a global consultancy and construction firm headquartered in London, employing approximately 7,500 people across five continents. From navigating multiple governance procedures, budgets and stock orders to launch events and communications spanning multiple businesses, how did such a large, global organisation coordinate the implementation of the programme?
Why is it important for businesses to join the Hidden Disabilities Sunflower?
By becoming a member of the Sunflower, your business will have the tools to recognise and support individuals with invisible disabilities and become confident in providing them with additional help or assistance. This could mean giving them more time to prepare, process information, or use clear verbal language.
As well as supporting customers with invisible disabilities, businesses use the Sunflower to support their colleagues and extend their diversity and inclusion objectives. The Sunflower is often a catalyst that can transform the culture of disability disclosure, start the conversation about barriers that disabled people face and challenge mindsets and perceptions towards disability within the workplace.
Gayle Doyle, Senior Project Manager and Co-chair of Mace's disability network, Enabled at Mace, shares the Mace strategy for successfully implementing the Sunflower at a global level. Here's what Gayle had to say on the subject of why Mace became members:
Why did Mace join the global Hidden Disabilities Sunflower network?
"Even before the Covid pandemic, Mace identified that disability inequality was widening and public attitudes towards people with disabilities at work needed to change. Our disability network, Enabled at Mace, was established in 2020 to encourage conversation about disability. However, we found that the same colleagues came to all our events.

The Sunflower offered us a unique opportunity to get everyone talking about disability; the impact disability has on individuals, reasonable adjustments that can be made at work and just how many people within our own Mace community could have hidden disabilities and be masking these in the workplace.

Improving the culture surrounding disability for those within the business is not just part of our D& I strategy but is integral to Mace's strategic priorities to grow together.

Our Sunflower journey began with a colleague simply saying, 'We should do this'. And from this basic premise, Mace established the change we wanted to bring about – using the Sunflower to help us create a significant and positive culture shift around disability – and ensure more of our colleagues are comfortable being their whole self at work."
How do you implement the Sunflower on a global scale?
"There were a few critical tasks that we needed to address to determine whether we could go ahead with the project at a global level.
Firstly, budgets. We wanted to bring the "I Wear the Sunflower" and the "I Support the Sunflower" lanyards to our teams globally and for the business to fund this. So we needed to determine what the cost model would look like. We funded the initial launch at several offices and selected major sites through our disability network, Enabled at Mace's budget. It was agreed that to embed the Sunflower into our business, Sunflower business starter boxes would be paid for at a project level in the future.
Working with the team at Hidden Disabilities Sunflower, we then needed to establish how the Sunflower training, products and launch events could be fulfilled.
Our proposal also needed to comply with various governance procedures from across the regions, which included satisfying various legalities such as GDPR and the training video NDA.
Mace is an organisation full of project managers, so, of course, we established a project team and developed a plan which included:
Our governance process, including progress meetings.
The activities required to train our wellbeing ambassadors and social value team who were crucial to the launch.
Plans for our supply chain event via the Mace Business School.
Plans for our Enabled at Mace network 'coffee and chat' session where members could ask questions and share experiences in a safe space.
Marketing communication activities in the lead up to and launch of the scheme.
Pre-ordering requirements to ensure Sunflower products were in place for the launch as well as details for colleagues working remotely from offices and major sites, wishing to order pre-paid products.
Finance matters including Board budget approval, supplier set up etc.
As you can imagine, all of this brought together a team of individuals from across various business units and geographies. This team came together for a regular drumbeat of meetings, both internally and with the Hidden Disabilities Sunflower team to ensure the success of the project and progress the various actions needed to keep us on course for launch day."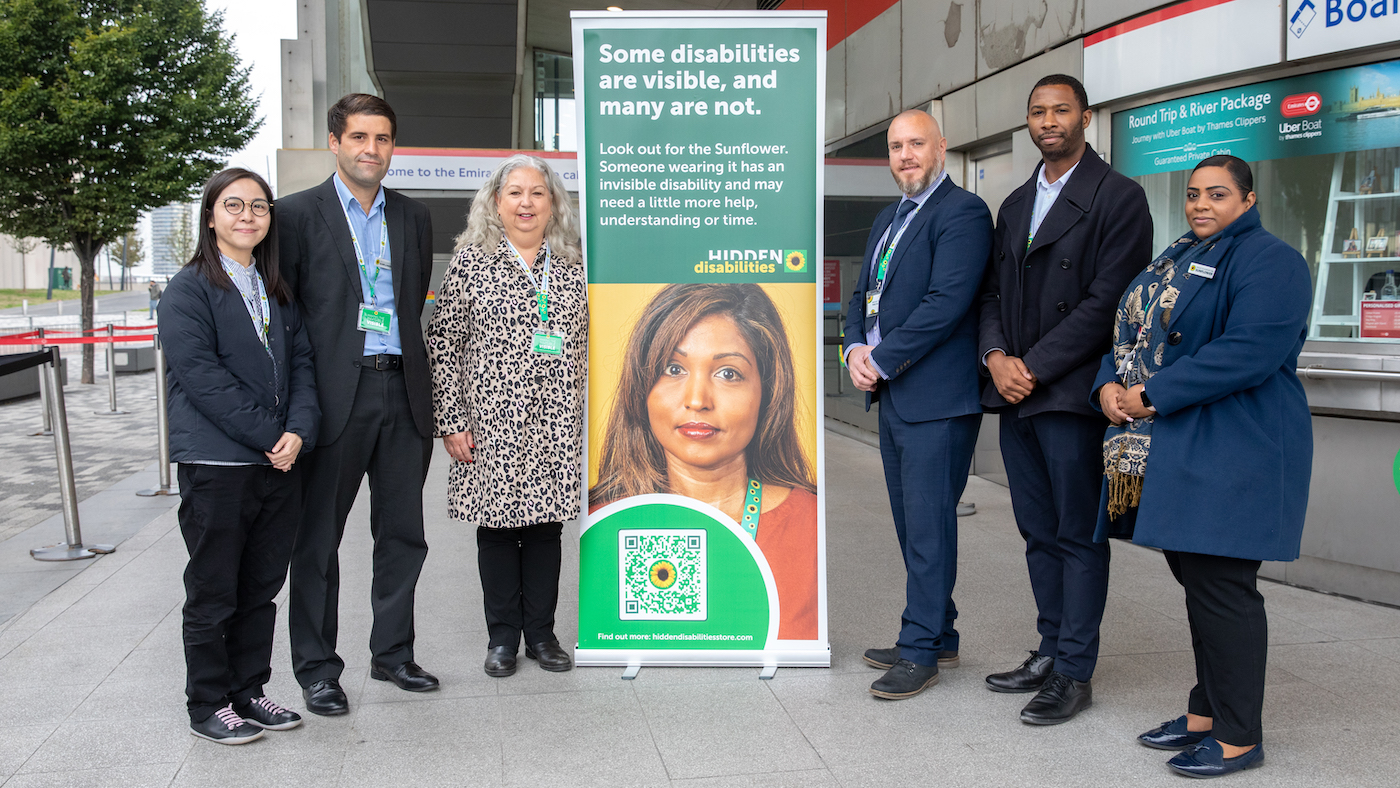 How did you ensure colleagues felt informed, included and supportive of the initiative ahead of the Sunflower launch?
"We began our Sunflower communications three weeks before launching the Hidden Disabilities Sunflower. We ensured that information was delivered across various communication channels available to our global teams including via our social network channels, the Mace intranet and as content in our monthly manager memos.
Senior management commitment was key to ensure that all colleagues engaged with the Sunflower programme. As a company Mace observes National Inclusion Week with our own 'Mace Inclusion Week' which took place the week after we launched the Sunflower internally. During the panel event held to explore 'the power of you', key speakers wore Sunflower lanyards giving great visibility to the scheme.
On the actual launch day, we reinforced the Sunflower message through:
A Sunflower 'lock-screen' and intranet 'banner' across the global business
Launch day events at offices and key sites
Sunflower posters with QR codes for internal and external team members
A comprehensive intranet article containing information, resources, training videos and links to Sunflower products
Social network articles about the launch referencing Mace Inclusion Week."
How did you co-ordinate your global Sunflower launch day?
"We launched the Hidden Disabilities Sunflower across 14 pre-selected office and project locations globally. Our wellbeing ambassadors and front of house teams had already received Sunflower training and had prepared their locations with Sunflower decorations and posters. At one of our sites, Frosts Landscapes provided sunflower seeds and plant pots for the on-site team members to plant sunflowers as a way of marking the occasion. Sunflower products were pre-ordered to ensure they were available at the various offices and sites for launch day.
Events at each location differed – at some offices more formal presentations were held about the scheme, at others, Enabled at Mace members spoke to colleagues as they arrived at the office.
We posted detailed intranet and social network articles providing information and training (including the Hidden Disabilities Sunflower videos) as well as information about where people could obtain lanyards and pins."
What effect has the Hidden Disabilities Sunflower had on your business?
"Launching the scheme has caused a huge shift in culture around disability at Mace. The visibility of the lanyards has prompted so many conversations and encouraged individuals to feel more at ease that they work for an organisation which is keen to support them in bringing their whole selves to work.
Our office managers and wellbeing ambassadors really got behind the launch and decorated offices, sent out daily emails about different types of hidden disabilities and arranged formal presentations with the Hidden Disabilities Sunflower team. The resulting engagement at site level and our offices has been positive and prompted many colleagues to feel empowered to discuss their own hidden disabilities or how they can be a better ally.
The clients and suppliers that have engaged with us so far, have been really positive about the impact of the Sunflower and want to understand how they can extend the reach of the scheme further in their own organisations."
How do you ensure that colleagues remain engaged with the Sunflower?
"As a business, Mace has been sharing the Sunflower Conversations, the weekly podcast from the Hidden Disabilities team, on a weekly basis to keep the Sunflower at the front of people's minds. The project team held a 'lessons learnt' session and embedded several opportunities into a 'sustain' action plan which will be managed by key stakeholders from the Mace Business School and the Enabled at Mace network.
We have also embedded the Sunflower into our site logistics standard, making it mandatory for all projects going forward to recognise and support the Sunflower. We are also working with others within our business to develop information packs that will help them articulate the benefits of the Sunflower both inside and outside of Mace."