Hidden Disabilities Sunflower is now an official Guinness World Records™ holder for the longest lanyard! On 17 March 2023, the 3,784.50m (12,416ft) Hidden Disabilities Sunflower Lanyard was confirmed as the new title holder, as it was stretched around the famous Kop end of Liverpool Football Club's Anfield Stadium.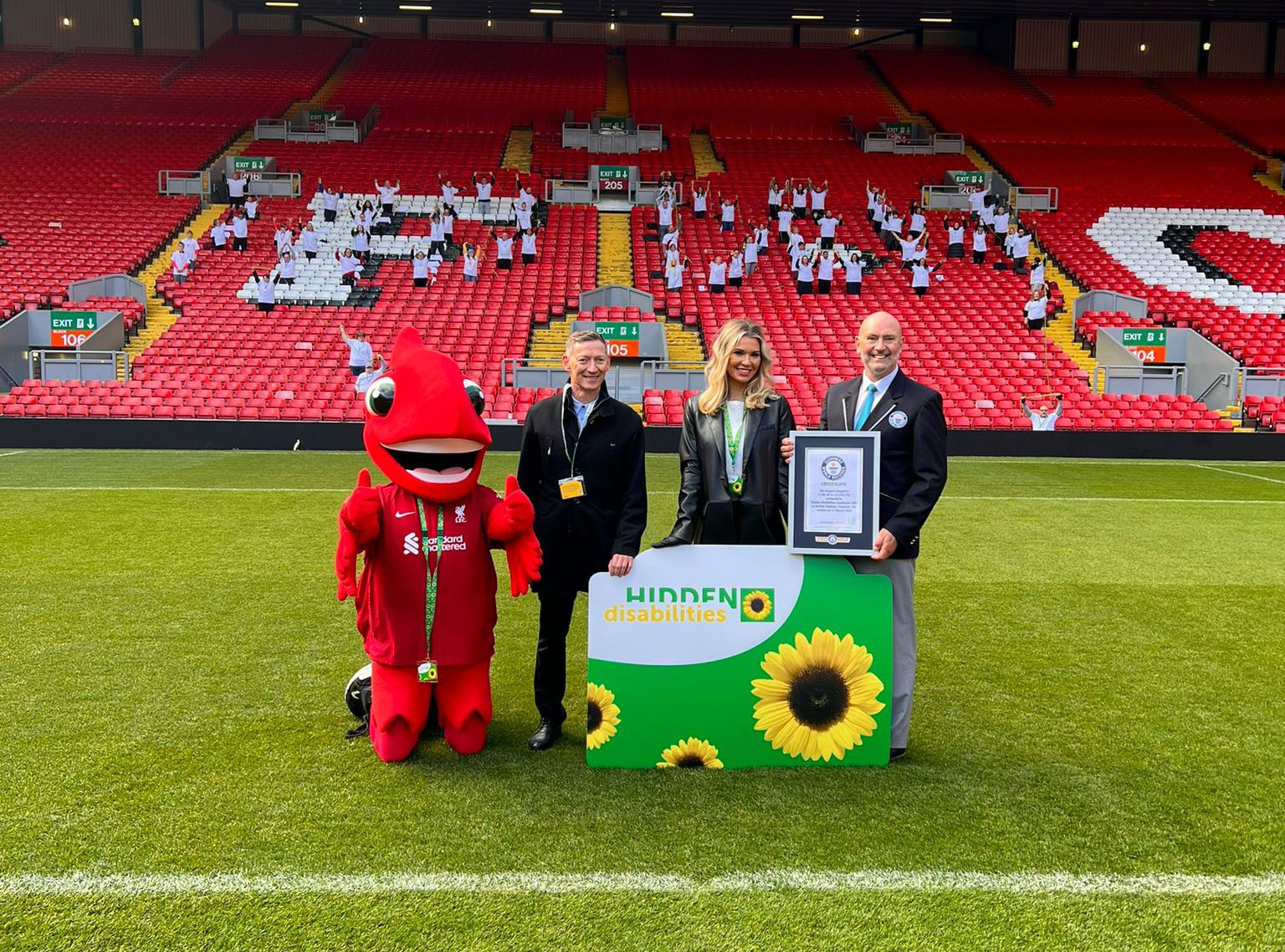 Christine McGuinness with Hidden Disabilities Sunflower chief executive Paul White (second left) and Guinness World Records adjudicator Glenn Pollard (right) (Sam Carlisle/PA)
We didn't do this alone
Everyone has the right to fully participate in everyday life and it important to recognise that although some disabilities are not visible, they're still very much there. They can be situational, temporary or permanent and they are experienced differently by everyone.
Our goal for every single person with a non-visible disability here at Hidden Disabilities Sunflower is for a consistent level of support and understanding at every stage of their day – whether that's travelling, at work, shopping, in leisure to arriving back home.
We believe that the more we all understand about the wide range of non-visible disabilities, chronic illnesses and health conditions that our Sunflower wearers live with, the more everyone will be aware of their diverse access needs.
Thank you to every one of the 2917 individuals that named one of the 867 conditions by the 28th February- every metre of our 3784.5m lanyard is indicative of either a hidden disability, condition or chronic illness or of someone who submitted a condition
The Sunflower lanyard is here for everyone that needs it, everyday of the year. It's a visual cue for the person wearing it to indicate that they may need additional assistance, understanding or time.
The list continues to grow
We know that not every condition has been captured when we took the count to create the lanyard. So we are keeping it open.
If you notice that a non-visible disability, health condition or chronic illness is missing from the list, add it using the form below and share our Guinness World Records™ with as many people as you can! Let's tell the world about non-visible disabilities through Sunflower lanyard.
Non-visible disabilities and conditions and the Sunflower
.

a

b

c

d

e

f

g

h

i

j

k

l

m

n

o

p

r

s

t

u

v

w

x

y
©2023 Guinness World Records Limited