Hidden Disabilities Sunflower heeft 's werelds langste lanyard gemaakt! Op 17 maart 2023 werd de 3.784,50 m (12.416 ft) Hidden Disabilities Sunflower Lanyard gespannen rond de beroemde Kop van het Anfield Stadium van Liverpool Football Club.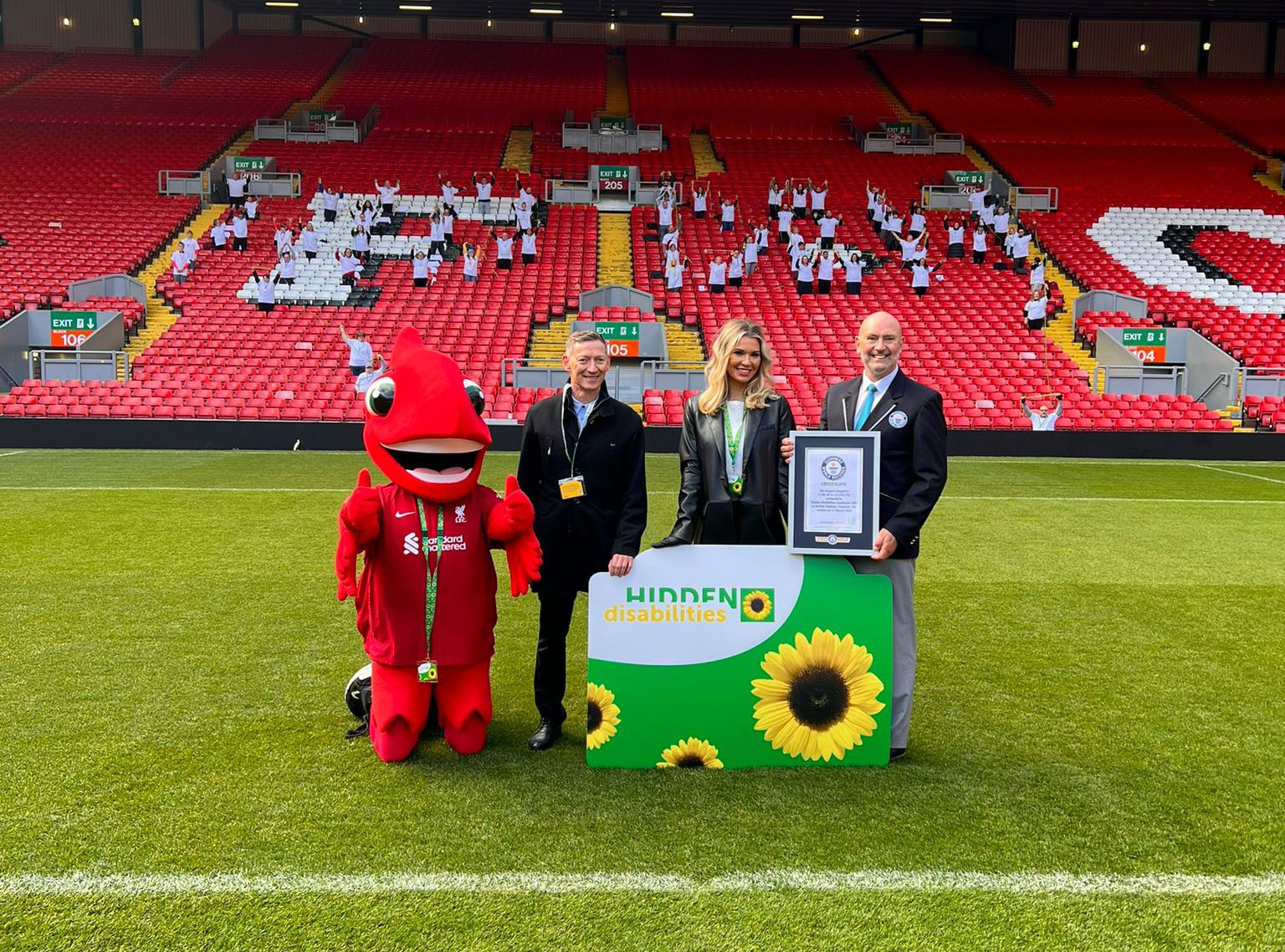 Christine McGuinness met Paul White, CEO van Sunflower (tweede van links) en Guinness World Records-jurylid Glenn Pollard (rechts) (Sam Carlisle/PA)
We deden dit niet alleen
Iedereen heeft het recht om volledig deel te nemen aan het dagelijks leven en het is belangrijk erkennen dat hoewel sommige handicaps niet zichtbaar zijn, ze er nog steeds zijn. Ze kunnen situationeel, tijdelijk of permanent zijn en worden door iedereen anders ervaren.
Ons doel voor elke persoon met een onzichtbare handicap hier bij Hidden Disabilities Sunflower is een consistent niveau van ondersteuning en begrip in elke fase van hun dag - of dat nu reizen, op het werk, winkelen, in hun vrije tijd tot thuiskomen is.
We geloven dat hoe meer we allemaal begrijpen over het brede scala aan onzichtbare handicaps, chronische ziekten en gezondheidsproblemen waarmee onze Sunflowerdragers leven, hoe meer iedereen zich bewust zal zijn van hun uiteenlopende toegangsbehoeften.
Bedankt aan elk van de 2917 personen die op 28 februari een van de 867 aandoeningen hebben genoemd - elke meter van onze 3784,5 meter lange leeflijn wijst op een verborgen handicap, aandoening of chronische ziekte of op iemand die een aandoening heeft ingediend.
Het is een visuele aanwijzing voor de persoon die het draagt ​​om aan te geven dat ze mogelijk extra hulp, begrip of tijd nodig hebben.
De lijst blijft groeien
We weten dat niet elke aandoening is vastgelegd toen we de telling namen om het koord te maken. Dus we houden het open. Als je merkt dat een niet-zichtbare handicap, gezondheidstoestand of chronische ziekte ontbreekt in de lijst, voeg het dan toe via het onderstaande formulier en deel het met zoveel mogelijk mensen! Laten we de wereld vertellen over niet-zichtbare handicaps d.m.v. de Sunflower keycord.
2023
Wereld's langste keycord
We hebben het gedaan !
We hebben 's werelds langste keycord gemaakt!
KOM
ERACHTER WAAROM
Niet-zichtbare handicaps en de Hidden Disabilities Sunflower
.

a

b

c

d

e

f

g

h

i

j

k

l

m

n

o

p

r

s

t

u

v

w

x

y