Inclusive design consultancy, Motionspot, one of our Sunflower Members, reveals new research and the impact of workplace design on associated pain and discomfort this Menopause Awareness Month.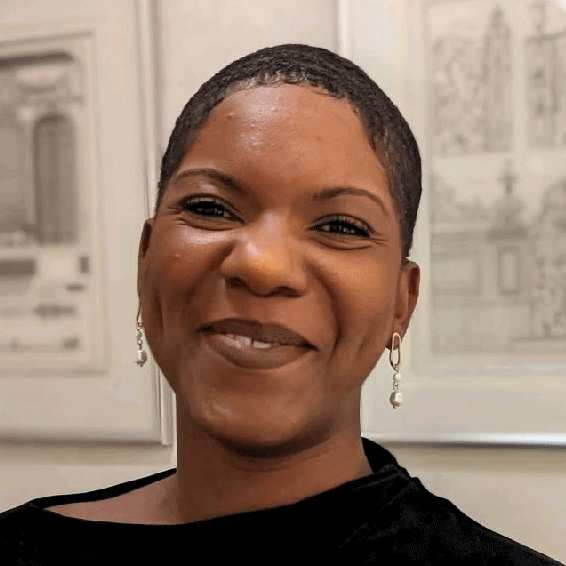 In this guest blog, Pareisse Wilson, Inclusive Design Strategy Lead at Motionspot, explores the significant findings from Motionspot's research and delves into ways in which workplace design can contribute to supporting employers and employees with hormonal fluctuations. Pareisse is an inclusive design specialist who has delivered projects across the workplace, rail, and health sectors.
---
A significant proportion of the workforce is made up of people who experience menstruation, menopause, and hormonal change including predominantly women, non-binary individuals, and transgender men and women. However, the impact of workplace design on pain and discomfort associated with hormonal fluctuations is an emerging field for most businesses. Creating workplaces that welcome everyone is central to our inclusive design ethos at Motionspot, which is why Motionspot commissioned research among 2,000 office workers to explore the topic further.
What is the impact of hormonal fluctuations for employees and employers?
The impact of the negative effects of hormonal fluctuations on both employers and employees' productivity, efficiency, and financial outcomes cannot be underestimated given that our research revealed:
61% of respondents say their mood is affected
58% find their concentration is impacted
44% face fatigue
29% deal with pain
The time people are negatively affected by hormonal changes was also found to be significant. Nearly 8 consecutive days every month for non-peri/menopausal respondents on average. This increases to just over 9 days for people experiencing the peri/menopause, with 42% of this group impacted for between 8 and 31 days per month. The impact of this on personal wellbeing and work productivity and profits could therefore be substantial.
Which inclusive workplace features make a difference?
Motionspot's research showed that 48% of the people we surveyed do not have access to the feature they identify as being most useful to manage their pain and discomfort at work. The most common unavailable feature in respondents' workplaces was found to be:
A place to lie down
A hot bath and shower
A dark or dimly lit space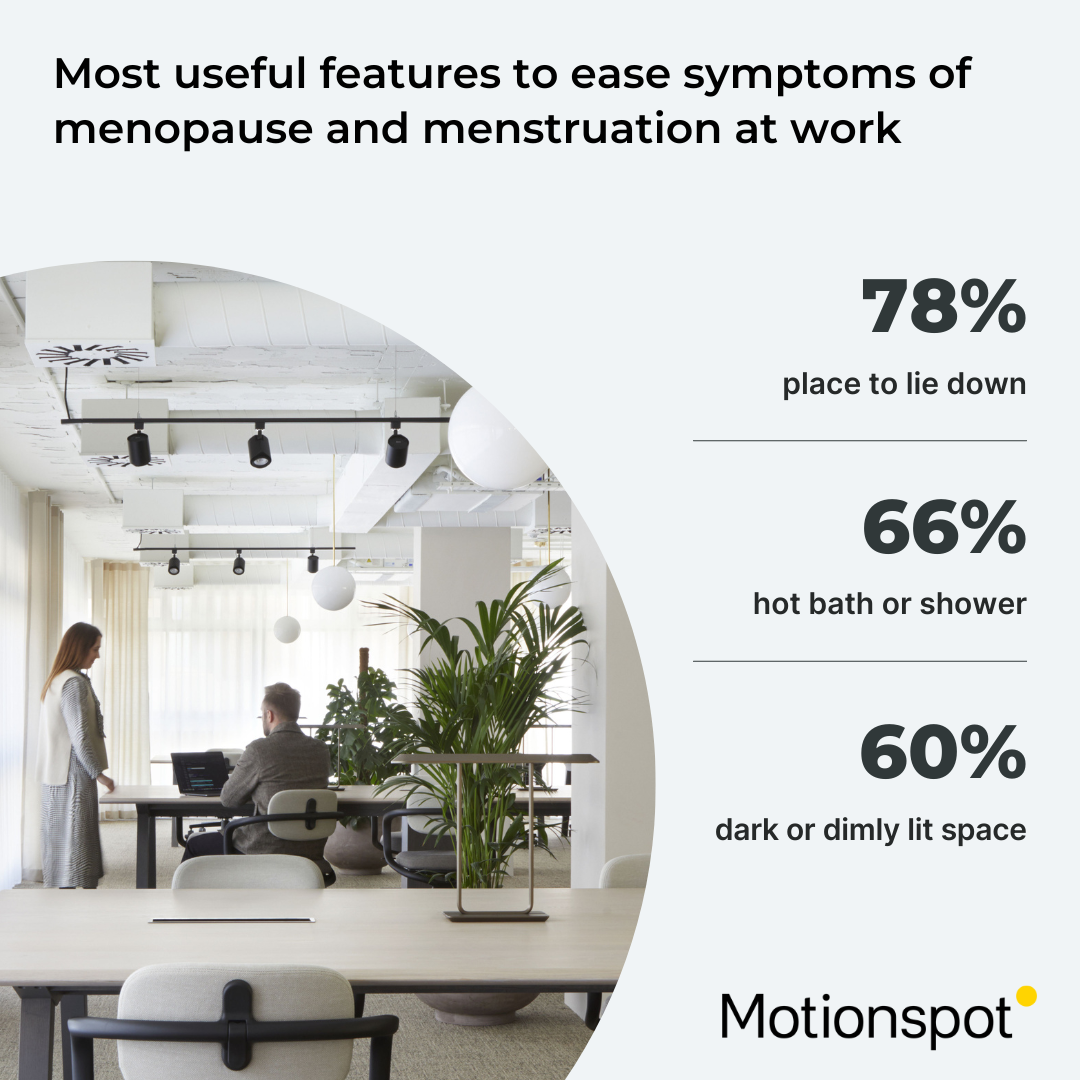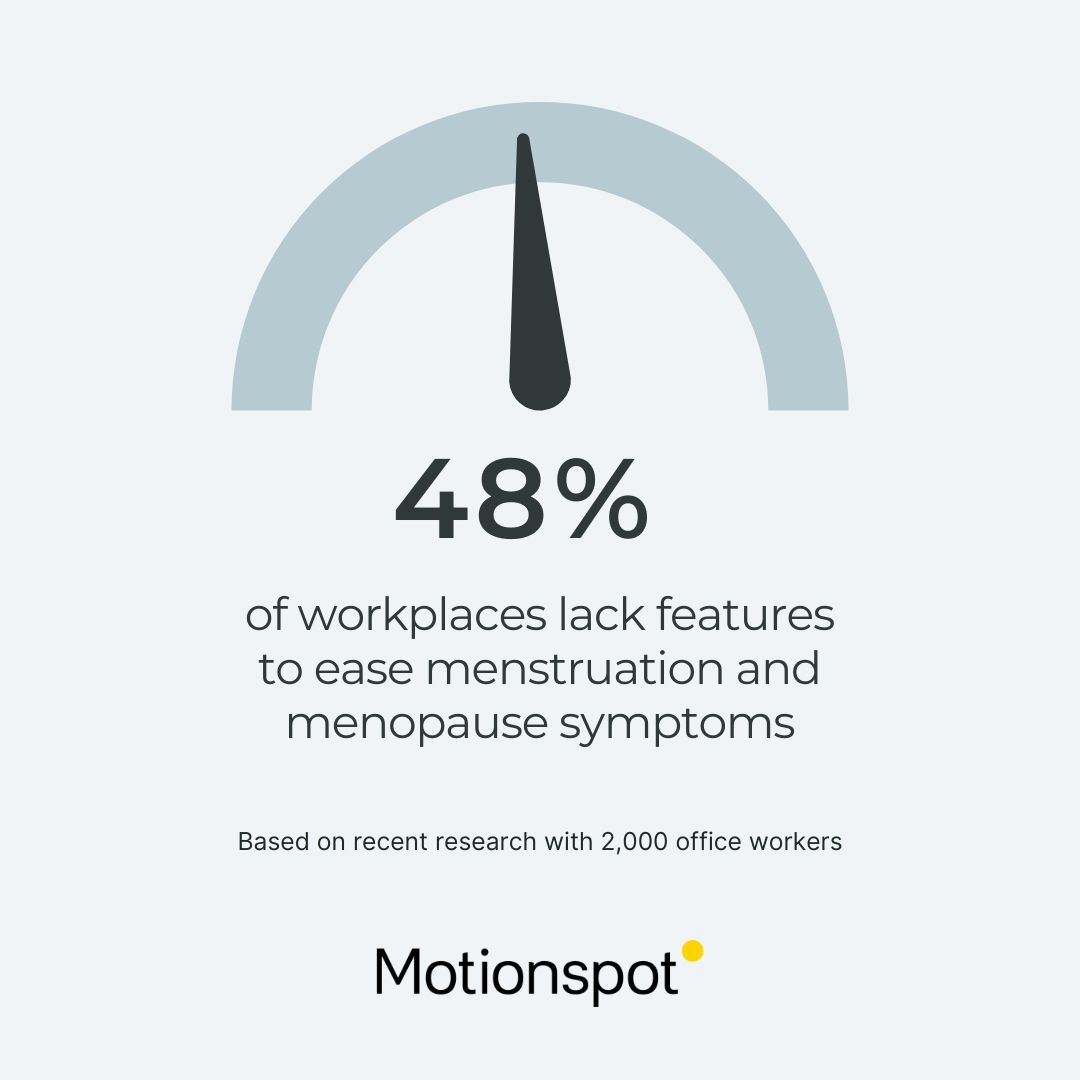 Our research showed fresh air to be the most common feature that would attract people to work more days in their current workplace at 37%. This increases to 41% for people experiencing peri/menopause.
Following on from fresh air were comfortable desk seating at 30%, natural light at 28%, a private room to decompress at 25%, temperature-controlled spaces at 19% vs 28% for people experiencing peri/menopause, and more focus rooms with less distractions at 19%.
Specific insights from respondents include:
"Shower facilities with a private and secure changing and showering space would make a huge difference as someone with a heavy flow, because the cleaner I feel the more productive I am".
"A quiet room to just go and sit for 10 mins to massage my tummy when I have pain".
"Screens between desks for privacy to hide hot flushes".
"More open space so that I can move freely to help with moments of discomfort".
"Spaces to emote".
The data shines a light on the fact that the spaces and products people need to ease their hormonal symptoms are not readily available in workplaces. However, the factors that would reduce pain and discomfort can be implemented by many working environments, such as focus rooms, comfortable seating, sleep pods, and sensory controls.
More than the menopause?
Our research reveals that while 35% of respondents report that their hormones are most impacted by conditions associated with menopause, for 53% of people it is conditions associated with menstruation that have the greatest impact. These include:
PMS (premenstrual syndrome)
PCOS (polycystic ovary syndrome)
Endometriosis and PMDD (premenstrual dysphoric disorder)
Pregnancy
Miscarriage, and chest-feeding/expressing
IVF (in vitro fertilisation)
It is also worth noting that there is a substantial overlap of desired workplace features for people experiencing hormonal fluctuations and people with neurodivergent conditions related to sensory modulation. We hope these insights encourage organisations to engage with their employees and their full spectrum of intersectionalities to create happy and healthy working environments that enable everyone to thrive.
The progressive organisations that embrace inclusive design will enjoy improved productivity, performance, and staff retention, and become the top choice for workers at every age and life and career stage.
A brief glossary of terms
Menstruation is the monthly bleeding, often called a "period", experienced by a person with a uterus (womb). Menstruation is the body discarding the monthly build-up of the lining of the uterus.
Menopause is when a person who has menstruated stops having periods. It usually happens between 45 and 55 years old. Symptoms include hot flushes and night sweats.
Peri-menopause means "around menopause" and refers to the time during which the body of someone who has menstruated makes the natural transition to menopause, marking the end of the reproductive years. Perimenopause is also called the menopausal transition.
About Motionspot
Motionspot is an award-winning accessible design specialist that creates enabling environments that work for all, without compromising on building design. Their team of inclusive designers are experienced in helping businesses to design beyond minimum design standards and building regulations to create environments that consider the entire spectrum of protected human characteristics and identities. Get in contact with Motionspot's inclusive design experts today by emailing [email protected] or calling 020 3735 5139 to discuss your inclusive design requirements with our inclusive design experts.
About the research
Motionspot instructed OnePoll to conduct online research between 16 and 24 May 2023 with 2,000 office-based adults who: experience menstrual symptoms (cisgender women, transgender men, transgender women, non-binary, and alternative identity); attend the office at least twice a week; work for companies with 250+ employees; 50% (1,000) of whom are perimenopausal or menopausal, 50% (1,000) of whom are non-menopausal. All data is available on request from Motionspot including data splits based on: disability and health conditions, age, gender, region and ethnicity.